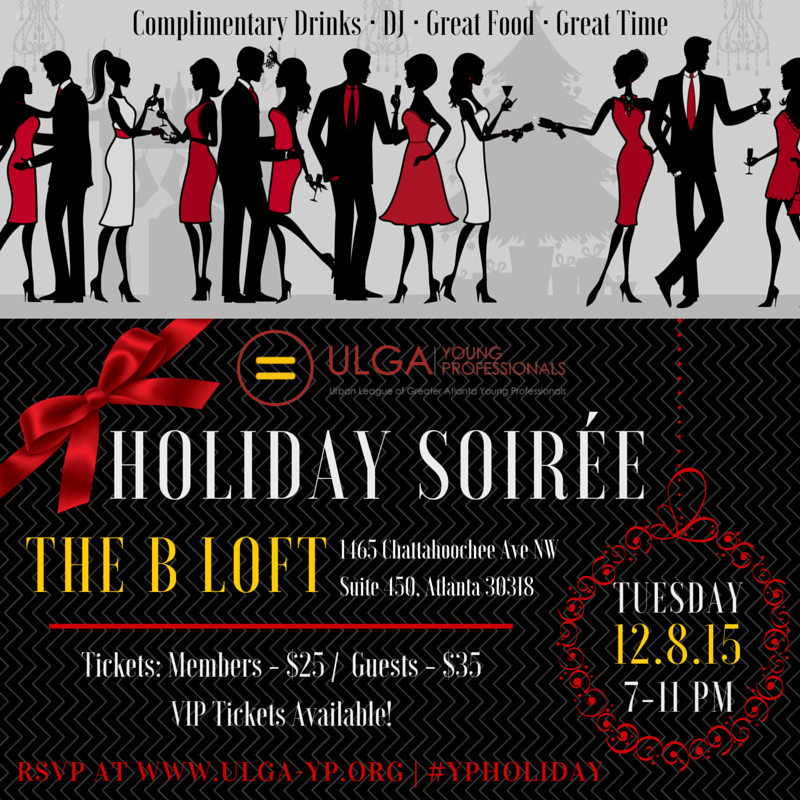 The holiday season is now upon us, which means Christmas music, caroling, decorations, presents and spending time with your loved ones. It also means giving to those less fortunate. I Am Black Business is excited to sponsor a powerful event with a purpose. By design, all of the vendors involved represent black owned businesses.
The Urban League of Greater Atlanta Young Professionals is having their annual holiday soiree at the B Loft this coming Tuesday, December 8th from 7pm-11pm.
Tickets can be purchased for ($25 – Members/$35 Non-members), which includes complimentary drinks, great food from Savoy Bar and Grill and a great time. The organization is asking attendees to donate a new or gently used coat that will go on to benefit the Urban League of Greater Atlanta clothing closet and its clients. If you do not have a coat to donate they will gladly accept a monetary donation to help them purchase coats.
Even though it's important to give throughout the year, it's especially important during the holiday season. Let's help the Urban League of Greater Atlanta Young Professionals make an impact in the community this holiday season by donating coats and/or money.
Please purchase your ticket before they're sold out – 150+ have already been sold. To purchase your ticket go to http://ulga-yp.org/event-2076270.
To find out more about the ULGA-YP, B Loft and Savoy visit the links below:
The Urban League of Greater Atlanta Young Professionals - www.ulga-yp.org
The B Lot (owned by ellyB Events) - www.thebloft.com
Savoy Bar and Grill - www.savoybarandgrill.com/